Storage is one of those things that you can never have enough of, no matter how big or small your living space is. And if you're tired of clutter taking over your bedroom, buying a new double bed with storage might just be the answer to your problem. Aside from providing a cosy spot to rest after a long day, your bed can now serve as an excellent storage solution that helps create a more organised and clean environment in your room.
The storage base of a bed is designed with a hydraulic lift system. This means that with a simple push, the bed effortlessly lifts up, revealing the storage space beneath. No need to strain your back or break a sweat. It's all about convenience!
The best part is that you can store anything you want, and you won't have to worry about it taking up precious closet or drawer space. So, let's talk about some creative ways you can utilise your double bed with storage. Whether you want to kiss those messy piles goodbye or have easy access to your belongings, there's something for everyone. 
Extra Bedding
You know those extra cosy blankets, fluffy pillows, and spare sheets you keep around for guests or chilly nights? There's no need to shove them into the depths of your wardrobe anymore! Your bed base is a perfect spot to stash them away neatly, making your guests feel welcome and your linen closet tidier.
Off-Season Clothing
As the seasons change, so does our wardrobe. Instead of letting those bulky winter coats or lightweight summer dresses monopolise your precious closet space, consider using your bed base storage to rotate seasonal clothing. It's like having a mini-seasonal closet right under your mattress.
Holiday Decorations
We all love getting into the festive spirit, but when the holidays are over, where do we put all those decorations? Fear not! Your bed base is here to save the day. Store those twinkling lights, decorative ornaments, and cheerful garlands safely tucked away until the next holiday season rolls around.
Fitness Gear
For all you fitness enthusiasts, the struggle of finding a dedicated place for your workout gear is real. The bed base can easily accommodate your yoga mats, resistance bands, and even dumbbells, making your next home workout more convenient than ever.
Valuable Items
Let's talk about those precious items that we want to keep safe but also at arm's reach. Jewellery, important documents, or sentimental memorabilia can find a secure and discreet home within your bed base storage. It's like having your personal vault!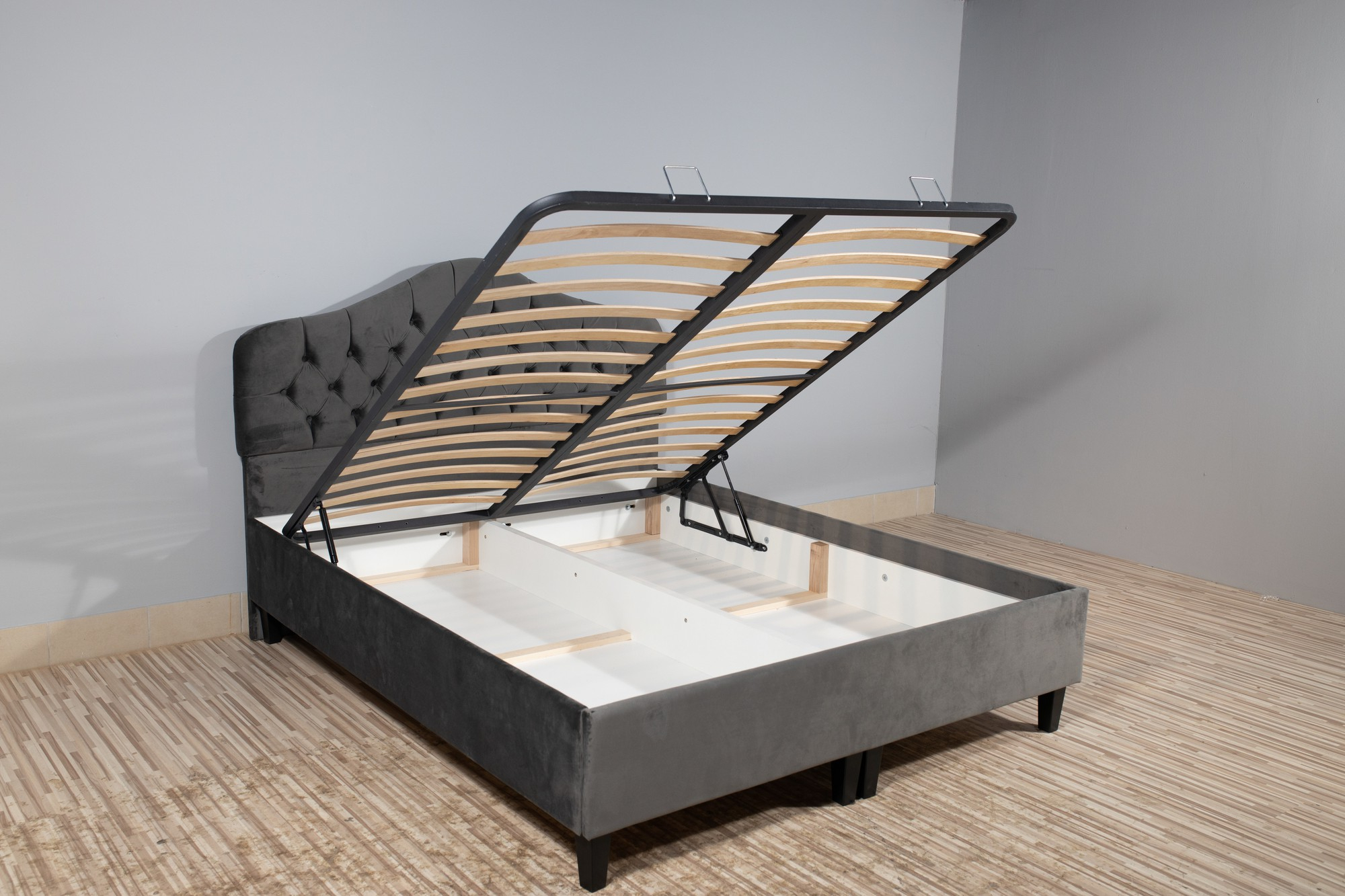 Toys and Games
Parents, rejoice! Bid farewell to scattered toys and board games that magically appear all around the house. Encourage your kids to tidy up by showing them how to stash their toys and games neatly inside the bed base storage.
Books and Magazines
For all the bookworms out there, your bed base is a fantastic alternative to overcrowded bookshelves. Organise your reading material under the mattress and free up some space for even more books – because you can never have too many
Travel Luggage and Bags
When you're not off exploring the world, your travel luggage and bags need a home too. Utilise that spacious bed base to keep them dust-free and ready for your next adventure.
Bedside Baby Essentials
New parents, this one's for you! Late-night diaper changes and feeding sessions become much more manageable when you can store baby essentials right under your bed. Diapers, wipes, and baby clothes are never far away, ensuring a peaceful night's sleep for everyone.
Craft Supplies
Crafters and DIY enthusiasts – no more searching high and low for your crafting supplies. Your bed base can be the perfect spot to store yarn, fabrics, scrapbooking materials, and all the creative tools you need to bring your projects to life.
A Bedroom Upgrade Awaits At The Bed Centre
At The Bed Centre, we believe that practicality and comfort should go hand in hand. With storage bed bases available in all bed sizes, you can have it all – a cosy sleeping sanctuary and a clutter-free space. 
Come on down to The Bed Centre, and our friendly staff will be happy to demonstrate the magic of our flip top storage bed base. You'll get a firsthand experience of how effortlessly the storage compartment opens and how it can change the storage game in your bedroom.
Final Thoughts 
Space is precious, and every square inch counts, especially if you live in a cosy apartment or have a modestly sized bedroom. A double bed with storage base is the ultimate game-changer when it comes to optimising your space. No more shoving items under the bed, only to forget about them until the next spring cleaning session. With a storage base, you can neatly tuck away your belongings, keeping your room tidy and organised – a dream come true for the neat freaks among us!